About Our Company
It was post war 1946 when D.J. Lanahan founded Lanahan Lumber Company. The construction industry was at an all-time high in Jacksonville, Florida and Lanahan wanted to contribute to the city he loved. Lanahan had a simple philosophy. Offer the best! It was and is today the Lanahan way: employ the best-trained people, offer the best product, guarantee the best service, and deliver the best quality at the best price.
The company continues its family-ownership, with CEO Michael J. Lanahan. Michael started his work at his father's lumber yard at the age of 14. Pulling lumber orders, driving the delivery truck and building doors in the mill shop. In 1985 he took over the operations as CEO / President of Lanahan Lumber Company. What has made Lanahan Lumber Company successful is the combination of D.J. Lanahan wanting to sell a great product and Michael J. Lanahan wanting to sell it worldwide. Michael Lanahan would also be responsible for sending the family business on its worldwide stint, starting in the Caribbean in 1975. Some of the jobs that Lanahan Lumber Company has secured over the years range from Jacksonville to Bermuda. US Virgin Islands to Poland. Ponte Vedra Beach to Barbados.
• Ritz-Carlton - St. Thomas and Exuma
• Point Blanche - St. Maarten
• Marina Village - Nassau
• Harborside Time Share - Nassau
• Atlantis Phase II and III on Paradise Island, Bahamas
• The Ocean Club - Nassau
• US Navy Housing at Guantanamo Bay, Cuba
• Veranda - Turks & Caicos
• Sandy Lane - Barbados
• Port Housing – Freeport
• Hyatt -St.Kitts
• Baker's Bay – Guana Cay, Bahamas
• Baha Mar – Nassau, Bahamas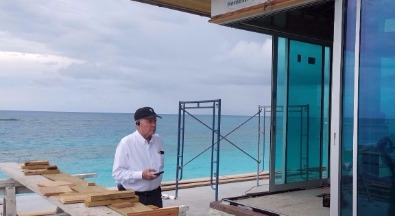 We offer a broad range of experience. We are ready to handle virtually any of our customer's needs. From 2x4 lumber to complex millwork, Lanahan Lumber Company supplies major builders of commercial, industrial, and residential properties across the world. We have both product and industry knowledge and logistical abilities and are committed to the total life cycle of the job. Unique and dedicated, we come to you with on site sales calls where ever you are in the world. We are excited for the opportunity to serve you and look forward to supplying your building material and logistical needs.